Once again, this picture is a couple of days old, but I have to voice my doubts.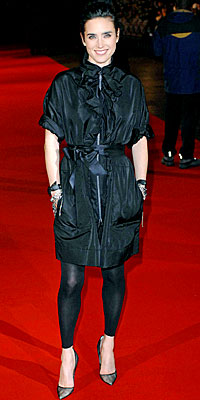 Because they're doubts, not screams of agony. I really love Jen, and I think she's
almost
rocking this fashion-forward outfit. But not quite. The coat is rather fetching, although I'm not sure about the bracelets...and then we get to the leggings. Ouch. Sheer leggings, especially with sharp-toed shoes like these, are just too much for me. If they had been tights, I would have loved this look. But no matter how hard I try, I can't bring myself to like semi-opaque leggings of any form, color, or style. I apologize to all of the legging lovers of the world.
Watches Casio from MrWatch