I apologize for the lack of posting recently; apparently, all of my worst offenders teamed up and resolved to ruin me by not wearing anything overly hideous this week! Things were further complicated because I actually LOVED Nicole Kidman's wacky dresses, and Natalie Portman's crazy sheer blue thing. Which resulted in a bit of a posting crisis.

This, by the way, isn't exactly hideous either.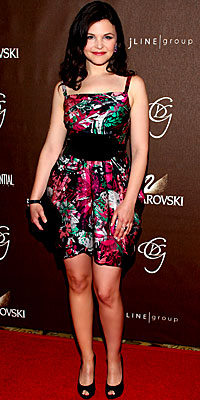 I KNOW floral dresses are big this spring, and that pairing the pretty pattern with black accents is very edgy. But I just can't get over this pattern. Perhaps it's because my great-grandmother had 2 couches in that pattern, with matching seat covers AND curtains. (She was big on florals). Florals can be very sweet and cute, but this dark magenta/green/black combination screams "nursing-home couture" to me. I won't rule out the possibility that I'm a little biased here. It really isn't Ginnifer's fault. Her hair is fantastic- why can't I get MINE to do that? - and the shoes are plain but nice. I'm sure many of my readers will love this outfit, so I'm not exactly sending her to fashion prison. Yet.
Jewelry Bargains from SmartBargains